Finally, a Math Learning System that is Easy to Use, Effective, Teacher Approved, and Affordable. With EasyWorksheet, you get it all!

Prices vary depending upon the Subject and the Length of time for the account

Students can get unlimited Math practice. All subjects are available here!

Easy to Use - The system is quick and easy to understand. There is nothing to download and no software involved. Everything is at your fingertips. Our FastTrack system makes navigation easy and keeps track of which topics the student has mastered.
Effective - Students that regularly use EasyWorksheet generally improve 23-27% or 2 letter grades. The system is great for students catching up as well as getting way ahead. EasyWorksheet not only gets students to improve their grades this year, but also builds a foundation for and confidence for the future.
Teacher Approved - EasyWorksheet is used regularly in over 10,000 schools worldwide to create tests, quizzes, and assessments. Practicing on EasyWorksheet is like practicing taking the actual tests.
Affordable - Our goal is to make the best products and make them affordable to all.

Try Some Samples of what you get: Any Questions: Please contact us at EasyWorksheet at yahoo.com

Click HERE to register now! Click HERE to renew an existing account now!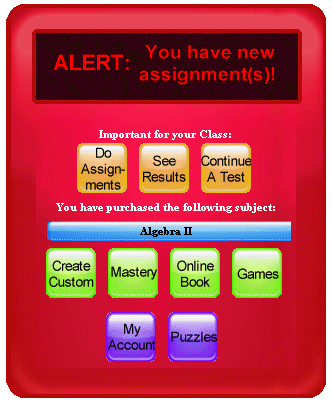 K - 12 Sign Up:
Pick your Subjects (Required)
First, pick out the subjects you want to have access to:


---
How will you pay for your account? (Required)
Payment Methods:
Pay by Credit Card via Paypal.com
Pay by Check or Money Order


---
Teacher's Class Number: (optional)
If your teacher has given you a class number to put in, add it here:
Class Number (optional):
Teacher's Last Name:


---
New SignUps: (required)
Click HERE to renew an existing account now!
Pick your User Name:

| | |
| --- | --- |
| Your Desired User Name: | |
| Your Password: | |
| Your Password (repeat): | |
| | |
| Student's First Name: | |
| Student's Last Name: | |
| | |
| Your Email: | |
| Your Email: (repeat) | |
| Your Zip Code: | |
---
Common Questions

How do I know my account is activated?
Activation of your account will occur upon receiving payment. We will email you once your account is activated.
How do you use EasyWorksheet.com
You need to activate your account (by paying for it). Then you pick out the subject on the left. Put in your username and password. Then scroll down and decide how many of each question you want. In place of the 0, put in the number you want. (So if you want 10 questions on "divisibility rules", put in a 10 by "divisibility rules"). Finally, go down to the bottom and hit "Generate Worksheet". The Step-By-Step answers and the Answer sheet will appear in Pop-Up windows. So make sure that you take off your pop-up blocker!
What about more questions?
Once you have generated a worksheet, reload for new questions.
Is there anything to download?
There is nothing to download! And you can access EasyWorksheet.com from anywhere!